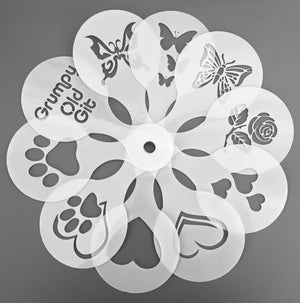 3 Pack of Perfectly Sized Washable Stencils
These fabulous washable stencils are a must for every salon! 

They're so easy to use just placed them against the finished coat and add either blow pens, chalks, glitter gels or airbrush colour for the quickest and easiest affect! Just gently wipe them down or rinse them off after you have used them, be careful not to bend the finer details. 

They are washable strong and durable so long lasting!
In this pack you will get 3 different random designs from the picture!
They are sized perfectly to look great on any dog! 


Please note: the finer details on the stencils may bend with misuse.